SAHC Publishes Civil War Veteran Research Guide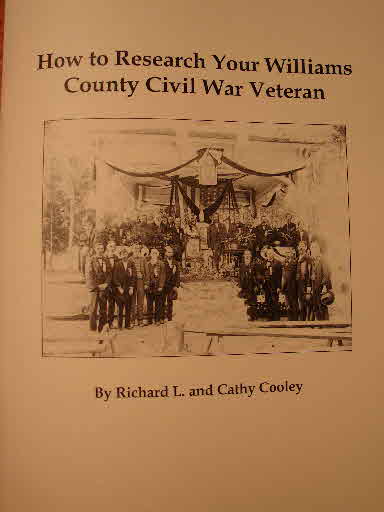 It is estimated that 1,400 to 1,600 Williams County residents served in the military during Civil War, and that more than 400 of these Union servicemen died during the War Between the States.
The Stryker Area Heritage Council has made researching these local veterans easier with the publication How to Research Your Williams County Civil War Veteran. This 61-page booklet, coauthored by local historians and genealogists Richard and Cathy Cooley, contains a variety of helpful resources including frequently asked questions, where to find military records, information on the primary local, lists of local discharge records, servicemen who died during the war, a veterans graves index, and useful Internet sites. The publication contains illustrations and information on a number of local Civil War veterans, including Medal of Honor recipients William J. Knight and Aquila Coonrod.
How to Research Your Williams County Civil War Veteran is priced at $8 for SAHC members and $10 for non-members. Copies are available at SAHC events, through SAHC Board members and can also be ordered by mailing a check or money order to the SAHC, P. O. Box 180, Stryker, Ohio 43557. Include $3 per booklet for mailing.
Evansport 175th history tour DVDs available
A 2-DVD set of the Evansport historical tour held as a part of the 175th anniversary of the village are available for sale from SAHC. Check with a SAHC member to get your copy at $10 for members and $12 for non-members.