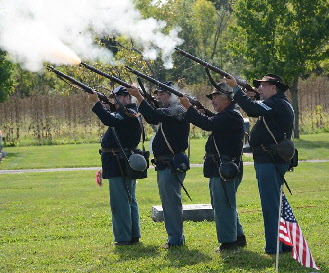 Stryker Civil War hero remembered a century after his death
By Lucas Bechtol, Bryan Times Reporter
Used by permission
One hundred years ago, Stryker buried a local war hero. On Saturday, he was honored nearly 100 years to the day of his death.
William Knight, a Stryker native, was a veteran of the Civil War and took part in the famous Andrews Raid in which several Union soldiers stole a Confederate locomotive. He survived and became one of the first recipients of the Medal of Honor.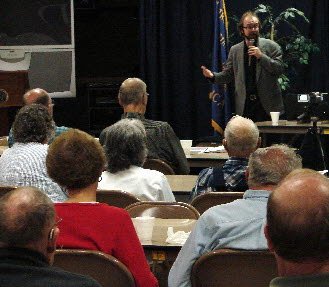 On Saturday (Sept. 24, 2016), community members gathered for a daylong celebration and remembrance of Knight, which included several talks from Jonathan Scott (shown at left), curator of the Southern Museum in Georgia.
Another aspect was a ceremony at his gravesite at Oakwood Cemetery, where a new American flag was hoisted and a special Medal of Honor flag was raised beside Knight's grave.
"I wonder what (Knight) would be thinking knowing that a group of people have gathered 100 years from the time he passed, still remembering what he did in the Civil War and remembering that group of people who put their lives on the line," said Bill Priest (shown below right), a trustee with the Stryker Area Heritage Council. "I often found that people don't always know they are making history when they chose to volunteer."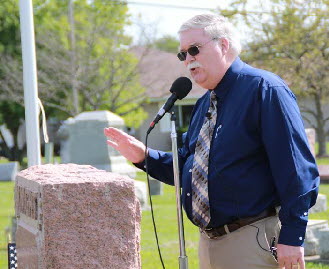 Even Knight, Priest said, thought he would get an easy assignment and not have to do much in the war.
However, he said when Knight was called to action for the mission, he rose to the occasion.
"He had a lot of obstacles to do it and he placed his life on the line many times during that whole mission and, once captured, he continued," Priest said. "What I think today is a wonderful example of is how we don't forget what people have done so we can be free. I think it's great that we still remember the sacrifices people made and what they did."
Local historian Don Allison (shown below left) said the state, the county and Stryker can be proud to call Knight one of their own.
"His death was a sad time in Stryker," Allison said. "The village paid its last respects to a venerable man, a friend, a neighbor, a valued citizen."
He said Knight "put Stryker on the map," as he was known throughout the country for the raid and would often travel to give lectures on the "Great Locomotive Chase."

For Allison, a Civil War enthusiast who has published books about the war, growing up not far from Knight's home helped kindle his interest in the period.
"I was a frequent visitor to his home as a child. It was the home of family friends and I still remember as a youngster being fascinated to see William J. Knight's signature on the property's abstract," he said.
Knight had been a neighbor to Allison's ancestors and, in fact, Allison actually shared a neighbor with Knight, "though half a century apart."
"Ralph Dilts, who was an old man when I was a child, had been as a young man a next-door neighbor to Mr. Knight, whom he thought of as Bill Knight," Allison said. "Ralph remembered Bill as a friendly, likable, down-to-Earth neighbor and I distinctly remember him telling me how Knight's beard would split in two in a stiff breeze."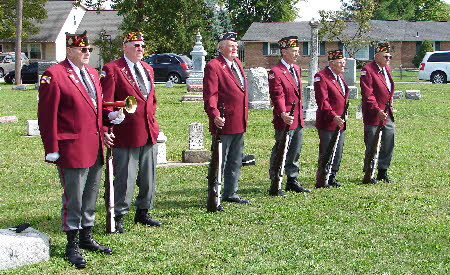 As an adult, Allison said he has even greater admiration for Knight, appreciating him as someone who didn't seek out glory, but rather was thrown into a life-threatening situation and responded to it.
Priest said "a boatload" of people worked hard to put together Saturday's remembrance of Knight.
After Allison's speech, a new American flag on a new flagpole was raised by the Bryan Veterans of Foreign Wars, accompanied by a 21-gun salute (VFW Honor Guard pictured on left).
A special Medal of Honor flag was then raised beside Knight's gravestone (shown below right),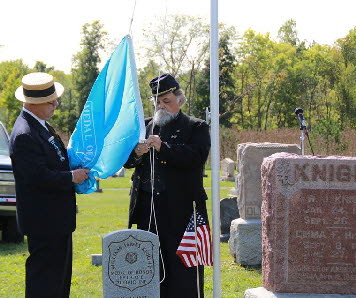 with four re-enactors of the 21st Ohio Volunteer Infantry (which Allison said was the infantry Knight was a part of) shooting off three volleys once the flag was raised (shown at top of page).
The ceremony concluded with the playing of Taps.
"At the Southern Museum we are all about increasing the memory of the Great Locomotive Chase to people who are both familiar and unfamiliar with it and having an audience that is already enraptured with the story of William Knight really provided a great opportunity to increase the knowledge from the southern perspective and also to shed more light on what, exactly, Knight did," Scott, the museum curator, said.
Scott also said the "very fascinated crowd" had many questions for him.
"Clearly, there is a huge interest in the story of Andrew's Raid from citizens here in Stryker," Scott said.
SAHC would like to thank Todd Grisier, Richard Cooley and Bill Priest for allowing us to use their photos of the event on this website.