How to research the background of a historic home
How would you start to look back into the history of an old house? Ginny Sterling gave some helpful tips on how to do that when she spoke to a gathering at the historic Stryker depot recently.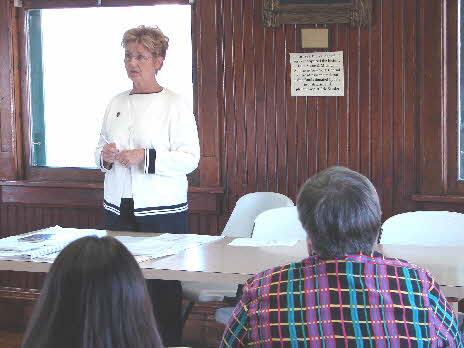 A member of the Historic Homes of Defiance, Ms. Sterling told about the efforts the group expended to trace the history not only of some of the homes in Defiance, but also of businesses throughout the downtown area. It proved to be valuable when the city needed the information for their own projects.
Ms. Sterling provided the gathering with an ample supply of information. One leaflet explained what a historic home is. Any home over 50 years old that has ties to the documented people of the community or any home over 50 years old that is an asset to the community in terms of preservation, design or events is a historic home.
There were also tips the group provides to residents of Defiance County who are researching their homes. To begin the research, they are directed to take the location and lot numbers from their tax bill to the County Recorder's Office. Once there, they should copy all the transactions of the lot that have occurred to show the actual ownership of the property.
The Defiance County Records Center has put together a helpful one-sheet guide to using county land records and determining the age of a house.
It was also suggested for those in Defiance County to take their information to the Defiance Library and visit the Ohioana Room. There they will find atlases, city and county directories, Sanford Insurance Maps that often have diagrams of old buildings, as well as county and family histories, newspaper recordings and photographs.
Ms. Sterling told how property surveys can be beneficial and handed out Ohio Historic Inventory forms from the Ohio Historical Society.
She also explained the benefit of a historic home organization, such as the Historic Homes of Defiance, and the projects that residents in the community have most enjoyed. She said the Defiance group meets the third Tuesday of each month at 7:00 p.m.