John Stryker, the man for whom the town is named
By Kevin M. Maynard
Stryker Area Heritage Council

There is typically an interesting story behind a community's name and origin. Such is the case with Stryker, which was named for man who lived half a continent away, and if not for the quick action of railroad entrepreneurs more than 150 years ago, the site of this thriving village would probably be farmland today.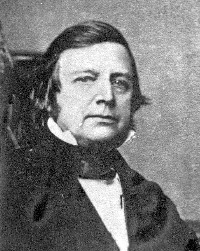 Weston Goodspeed's 1882 "History of Williams County" says Stryker "was laid out by John A. Sargent and E. L. Barber in the fall of 1853, and named in honor of John Stryker, who was an officer of the Air Line Railroad (by some it is claimed that he was a subcontractor, and by others that he was president of the road).
The Stryker family emigrated from Holland when New York was still known as New Amsterdam, afterwards Americanizing their family surname from the Dutch "Von Strycher." Daniel P. Stryker graduated from Princeton in 1804 and settled in Orange, N. J., where he and his wife Harriet quickly had five children; they called their second child (and first son) John, a name reserved by family tradition for the eldest boy.
Daniel Stryker was a frail man who died in 1815 after becoming seriously ill while crossing the Hudson River between New Jersey and New York. In 1819 Harriet Stryker moved her family to Whitesboro in Oneida County, N. Y., to live with her widowed sister who had no children.
Tragedy continued to plague the Strykers as 13-year-old John lost his older sister Mary and brother Daniel to scarlet fever within a week of each other.
John Stryker attended Whitesboro's public schools and was working as a store clerk when he was offered the opportunity to study law with Thomas R. Gold, a prominent local attorney. He quickly earned the responsibilities of office manager, confidential clerk and keeper of the law register. Mr. Gold died unexpectedly in 1827, and John was compelled to finish his legal studies in the law offices of Storrs & White.
In 1829, before his 21st birthday, Stryker was admitted to practice before the Oneida County Common Pleas Court. He soon relocated to Rome near the center of Oneida County, where he opened a law office with Allanson Bennett.
John Stryker took an active interest in local politics and at the age of 23 Rome citizens sent him to Albany, N. Y., to lobby for the passage of a law chartering the Bank of Rome. He quickly became an integral part of the "Rome Regency," a group of powerful Democrats who controlled the region's politics.
Mr. Stryker was elected to the New York General Assembly in 1835, where he utilized his legislative power to steer the course of the Utica & Syracuse Railroad through Rome, greatly benefiting the community. Two years later he was appointed Oneida County surrogate, a position he held until 1846.
John Stryker held very few political offices. He preferred managing things behind the scenes and did so with great dexterity. He used his influence to bring the Black River Canal to Rome and to alter the path of the famous Erie Canal so that it passed through the town.
John's political involvement prompted a local historian to later write: "No person probably in the state and certainly none in the county was so fond of politics as he or made it such an exclusive study and business for over 40 years of his life. He has attended more caucuses, district, county, state and national conventions, made and unmade office holders, and managed and manipulated conventions to a greater extent than any other man in the State. The politics of Oneida County and the history of state and national conventions would be in a great measure shorn of their most interesting features if all that Hon. John Stryker had to do therewith was left out."
Despite his political maneuvering, records indicate John Stryker was quite civic minded and worked diligently to benefit his fellow Romans. He helped organize the Rome Locomotive Works, the Merchant's Iron Mill and the Rome Gas Light Company. Stryker was a trustee of the Rome Cemetery Association and was a director of the Rome Iron Works. He was president of the Bank of Rome for many years and sat on several local bank boards. John helped establish the Rome Deaf-Mute Institute and was an active member of the Zion Episcopal Church, serving on its vestry for 45 years.
Notwithstanding his many other impressive achievements, railroads became John Stryker's claim to fame. After helping to secure the charter for the Utica & Syracuse Railroad, he served on its board of directors and was the company's first attorney. He abandoned his law practice in 1847 to concentrate on railroad enterprises.
About 1848 Mr. Stryker and E. C. Litchfield of Detroit purchased the Michigan Southern Railroad for $500,000. Recognizing the potential profits of connecting Chicago with the east by rail, the Michigan Southern began laying tracks west from White Pigeon, Mich., toward the Windy City, completing the project in February 1852.
In 1850 the Northern Indiana Railroad was organized and Stryker and Litchfield were named to its board of directors. In March of the following year, Ohio chartered this rail line, which soon became known as the Michigan Southern & Northern Indiana Railroad.
In 1852, Williams County voters approved a $100,000 stock subscription to the Junction Railroad, which was projected to run from Cleveland to Chicago through Toledo and Williams County. The Junction Railroad planned two branches in Williams County that would touch West Unity, Montpelier, Lafayette (now known as Pulaski), Bryan and Williams Center.
Realizing the serious financial damage this proposed project could do to their business, John Stryker and his associates decided to construct an air-line railroad (one with no curves to allow higher speeds) west from Toledo to connect with their rail line at Elkhart, Ind.
Shortly after the votes were tallied in favor of the Junction Railroad project, Michigan Southern & Northern Indiana Railroad engineers and surveyors quietly laid out a route through Williams County. In February 1853, John H. Sargent of Toledo, the railroad's acting chief engineer and superintendent, hired Bryan attorney Edward Foster to acquire right-of-way and depot grounds in Williams County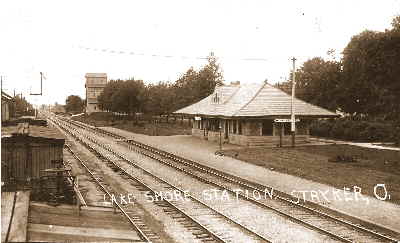 .
At that time a railroad virtually guaranteed a town's prosperity, and Bryan was the only Williams County community on the railroad's proposed route. Armed with his intimate knowledge of the railroad's intentions and its projected route, John H. Sargent came to the area with ideas besides railroad building. He carefully selected land next to the proposed railroad near the Tiffin River several miles east of Bryan in Springfield Township. On September 19, 1853, Sargent, Epaphras L. Barber of Lucas County (a young civil engineer working on the railroad survey), and local farmer Jesse McCart had the village of Stryker surveyed on their land
This was not Sargent and Barber's only foray into land speculation; they also helped found the village of Wauseon next to the Michigan Southern & Northern Indiana tracks in Fulton County. John Sargent also purchased several tracts of land in St. Joseph Township near the St. Joseph River and on April 22, 1854, had the village of Edgerton surveyed next to the railroad's proposed path. Edgerton was named in honor of Alfred P. Edgerton, who controlled extensive land holdings in northwest Ohio and is said to have granted much of the new railroad's right-of-way. Sargent Street in Edgerton honors its founder.
The Michigan Southern & Northern Indiana Railroad reached Stryker by January 1, 1855, was extended to Bryan in the spring of 1855 and later to Edgerton. As a result, Stryker and Edgerton became thriving rural communities that never would have existed if the Junction Railroad had been built.
In 1867, John Stryker, nearly 60 years old, ran again for the New York General Assembly. He lost by a slim margin and on election night suffered a stroke that left his left side paralyzed. Initially he was unable to walk but slowly recovered and was eventually able to move about with the aid of a cane. He lived the remainder of his life in semi-retirement, reading extensively to keep posted on world events.
John Stryker died in Rome in 1885 at the age of 77. The local newspaper noted: "In his death Rome loses one of its most widely known citizens and one who has been identified with its material prosperity for nearly 60 years."
If John Stryker were alive today, he could ride an Amtrak passenger train over the same railroad right-of-way he helped establish in the 1850s and feel justifiably proud of his continuing influence in Williams County. He may never have fully realized the tremendous impact he had upon the lives of others so distant from his Rome, N. Y., home but it was John Stryker's inspiration and determination that gave birth to two area communities that continue to grow and prosper more than 150 years later.